Classes are designed to last for several weeks as we cover the material. The first class of each series sets up the groundwork of the dance. It gives you a few basic patterns, timing, general lead/follow information and the basic framework and posture of the dance.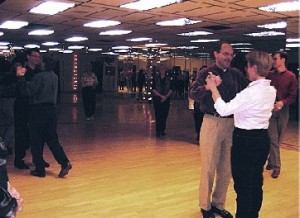 Each week thereafter, we start by reviewing the beginning steps and then we continue by adding more steps and patterns. As the class progresses you'll improve your lead or follow skills and add to your pattern knowledge. By the end of the series we will have covered many steps, patterns and techniques to make you more comfortable and a better dancer. You can bring a friend or come by yourself. Because so many people want to learn both the lead and the follower's parts we can usually match everyone up with a dance partner.
Class Levels
Classes are available in beginning and more advanced levels. Level II and Intermediate levels are routine-based and requires fundamental knowledge of the dance being taught. Continue to learn new material while reviewing and mastering the basics.
Pricing
Classes cost $75 for a 6-class series but you can also pay $15.00 to "drop-in" a single class. Please arrive 15 minutes early to the 1st class of the month for registration and prepayment. Our regular Friday night class is from 6:30 – 7:30 PM.
Check our class schedule for more information.