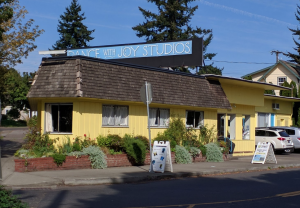 Dance With Joy Studios is located in the historic Sellwood/Moreland neighborhood at 7981 SE 17th Ave., Portland, OR  97202. It's very near the intersection of SE 17th Avenue and Tacoma Street.
Featuring two ballrooms and space for relaxing, Dance With Joy Studios is home to a variety of local dance instructors and movement-fitness coaches. Check out their calendar for a list of all the dance instruction classes offered.
Please Note
There's limited off-street parking on 17th Street, but plenty of street parking throughout the neighborhood.