Weddings are not the same without music, dance, fun and laughter. Step-out in your new life together with the first dance as a couple. Private lessons are available to make sure that your first dance is exactly what you want it to be.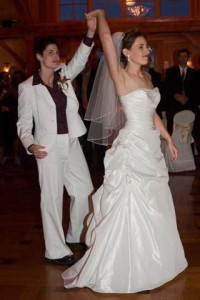 Entertain your wedding party with music that matches your style and creates the atmosphere that is "just right" on your special day. Daniel is available for wedding consultations and can recommend and provide just the right music for dancing and socializing. No matter what your style, Daniel's extensive collection of music and disc jockey experience will bring your wedding alive.
Preparing for a Wedding? Here are some tips:
You must consider several things if you are learning to dance for a special event, such as a wedding or a commitment ceremony.
If wearing a gown: does it have sleeves that would prevent you from reaching your hand over your head? Does is have a long train that you might step on when bustled? Does it in any way prevent easy movement?
If wearing a suit: do the shoulders of your tuxedo's jacket lift up when you raise your arms into a dancing position? Many do and if so, should not be worn while dancing. Consider the shoes you'll be wearing. You should wear the same type of shoes to your dance lesson.
What are the dimensions of your dance floor? Bring them to the lesson and that way your instructor will know whether or not you can do that lofty and large Waltz you've been wanting to. What surface will you be dancing on? Is it safe for the shoes and clothing you will be wearing?
Finally, choose a few pieces of music before you go to your first lesson and take the selections with you. It will be much easier for the instructor to know what dance to teach you! Think about what style of dance you would like and how dramatic (or not!) you would like it to be. Communicate these things to the instructor right away and you will be more likely to get what you've envisioned.