Daniel Hutchison's love for music and dance also makes him the perfect addition to your party! Daniel has been a disc jockey for over ten years and his extensive music collection allows him to dj parties of all kinds with any type of theme. Whether you desire 70's disco or elegant ballroom dance music–Daniel has it. He also has all the equipment necessary to create a great sound in smaller venues–or can plug-into existing sound equipment in larger auditoriums. Recently he has added many MTV-style music videos to his collection–perhaps you'd like a video party?!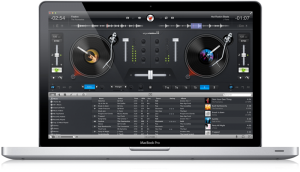 For a full evening of fun, have Daniel teach your guests some new dance steps and then provide the music and/or videos for the rest of the night. This is a perfect combination for fund-raisers or just plain fun!
Daniel regularly DJ's for "Stomptown," the Sesame Dance Club (a local hub for social ballroom dancing), as well as other clubs in and around the Portland area.
Testimonial
"I would like to thank you for your excellent DJ'ing of our Valentine's Day Dinner and Dance. Your music selection, professional demeanor and elegant appearance completely fit with the classy atmosphere which we wished to create for our event. Selecting good music that is fun to dance to and yet appropriate for a wide audience range is not the easiest task, but you seemed to accomplish this feat with ease. Everything you played was very enjoyable. I was impressed with your preparation before the evening; you really seemed to take an interest in making the event successful. As someone planning this event and coordinating different people, your preparation, punctuality and ability to direct yourself was a huge help to me. You also kept the music interesting throughout the event and had a good feel for what our guests would like next to keep the energy of the event going. I have received several compliments since the event specifically complimenting how wonderful the music was an how elegant your were as a DJ. Those compliments rightfully belong to you. You participation in our event was critical to our success. Thank you.

Sincerely,

Charlotte Goldman"