Start 2013 with six weeks of fun, energy-creating dancing. It's the perfect combination of good time, great exercise, meeting new friends and making a commitment to yourself.
Fridays, Jan 18th – Feb 22nd 6:30-7:30 PM
East Coast Swing (Beginning/Intermediate)
Evolving from the Lindy Hop in the 1940s, the East Coast Swing is indispensible in its versatility—nearly every band and DJ will play a large collection of "Swing" music when you're OUT DANCING. Beginners will easily pick-up the basics and more advanced students will enjoy patterns and routines that challenge and energize. East Coast swing has hundreds of patterns—so even if you've had the class before you'll be learning new steps. In six weeks, we'll cover lots of ground and have a great time.
$60 for six classes (per person)
$15 for a drop in (per person)
A fun video of queer "Swingers" in Australia…
Events and Coming Attractions
Saturday, January 5th, 8:00 PM – 1:00 AM
Crystal's Country Jam
at the PPAA: 618 SE Alder St. Portland, OR
DJ Crystal hosts this popular country dance.
– $3 Line Dance Lesson taught by Crystal (at 8 PM)
– $7 open dancing 9 PM – 1 AM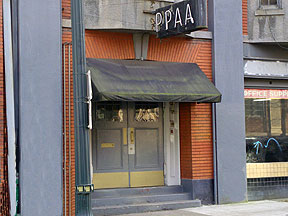 Saturday, January 19th, 8:00 PM – 1:00 AM
Crystal's Country Jam
at the PPAA: 618 SE Alder St. Portland, OR
DJ Crystal hosts this popular country dance.
Daniel Hutchison of Out Dancing will provide a Country Western 2-Step lesson.
– $3 Dance Lesson taught by Daniel (at 8 PM)
– $7 open dancing 9 PM – 1 AM