Out Dancing will offer seven Friday nights of Country Western 2-Step in the latter part of April and throughout May. You can build on what you've learned in Beginning 2-Step class or at the Country Dances.  Make sure you know the basics–we'll take off from there for 7 weeks of new patterns, steps, turns and positions. Note: No Classes on April 5th or 12th.
Fridays, April 19th – May 31st 6:30-7:30 PM at Ankeny Street Studio
Country Western 2-Step (Intermediate)

Modern Country 2-Step has its roots in German country dancing from the 1800s. Today, the Country 2-Step is one of the "must know" dances to go with country and western music. Intermediate students will be pleased with the complexity of more difficult steps and routines. You'll have fun learning some of the "Wow!" moves you've seen on the dance floor!
$70 for seven classes (per person)
$15 for a drop in (per person)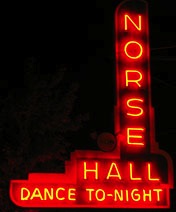 Events and Coming Attractions
2nd and 4th Saturdays, Every Month
Crystal's Country Jam
Now Upstairs at the Norse Hall
Read More about this popular
LGBTQ Country Dance