Our Group Classes in October:
Fridays, October 10th – November 21st, 6:30-7:30 PM
East Coast Swing
at Ankeny Street Studio; Corner of SE Ankeny & 9th Ave.
The East Coast Swing is indispensible in its versatility—nearly every band and DJ will play a large collection of "Swing" music when you're OUT DANCING. Beginners will easily pick-up the basics and more advanced students will enjoy patterns and routines that challenge and energize. Think: good exercise and great fun! East Coast Swing is also a fun dance for the center of the dance floor at "StompTown" (see below).
$70 for seven classes (per person)
$15 for a drop in (per person)
Mondays, October 13th – November 10th, 7:00-8:00 PM
Nightclub 2-Step (Intermediate)
at Ankeny Street Studio; Corner of SE Ankeny & 9th Ave.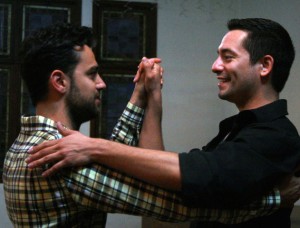 Nightclub 2-step is one of the most popular forms of partner dance for slow and mid-tempo ballads. It combines the connection of slow dancing with contemporary music and a variety of interesting patterns. It's easy to learn the basic steps and more advanced dancers will enjoy more complicated patterns. Please note this is an intermediate class; there will be a brief review of the basics but plan on spending most of the class on intermediate patterns. Bring a partner or come solo and enjoy this fun and easy dance. Call to see if Daniel is available for a private lesson the hour preceding the intermediate class if you wish to brush-up on the basics in NC2S.
$50 for five classes (per person)
$15 for a drop in (per person)
Events and Coming Attractions

Saturday, October 25th; 7:00 PM – 11:00 PM

Upstairs At The Norse Hall
111 NE 11th Ave., PDX
Daniel Hutchison hosts and DJ's this wonderful night of LGBTQ dancing. Enjoy a lesson and an evening of your favorite Country Western music, upstairs at the Norse Hall. Daniel will start the lesson at 7:00 PM, warming up with a line dance and then transition into Country 2-Step; both beginner and intermediate. The dance starts at 8:00 PM.
$ 10 per person, includes everything:
7 pm, both line & social dance lessons
8 – 11:00 pm, dancing
stompin' good DJ'd CW music
wood dance floor
no-host full bar
air-conditioned, free parking in west lot
lots of fun, new friends & more!
We're dancing upstairs in the Lodge Room at the Norse Hall. The dance floor is bigger than at the PPAA or Ankeny St. Studio. We have our own restrooms upstairs, complete with sitting rooms for both men and women. The Norse Hall has a full bar downstairs. In addition to street parking, there is a parking lot located at the corner of NE Couch and Tenth. Note that there is only one Stomptown dance in October–on October 11th.